We are Ton and Mirella
Since 2000 we own Domaine Les Gonies. After working in the hospitality industry in the Netherlands for many years and had our own restaurant together for 3 years, we wanted something different.
Living, working and enjoying in a different way.
At Domaine Les Gonies we can live in, of and with nature, work and yet have a lot of contact with our guests and enjoy French life. Mirella as a chef, farmer and hostess. Ton as waiter, farmer and 'Jack of all trades'.
We are now 20 years away and our company has grown. We like so many things.
Apart from spoiling our guests in our restaurant, the gîtes, the Bed and Breakfast and on the campsite, the farm plays an increasingly important role. Time for extra help.
The spring of 2019 brought Heleen and Marcel on our way. We immediately had a right click. After working "live" together for several months, we are now really going to connect.
Each from its own specialty, experience and angle. But especially all with passion and energy.
I am Hanny
After 40 years of consultancy and training in the youth welfare the decision was made to leave my working life in the Netherlands behind and to leave for France to enjoy the French life, but also to be active in a meaningful and sustainable way.
For 3 years I rented out gîtes in the Dordogne and did some catering. I also coach and mentor Dutch youngsters who have fallen between two stools during their education. In France, they make a new start and Les Gonies seems an excellent place to gain work experience and prepare for independent living back in the Netherlands.
On 1 March 2021, I will take over the 'tourism' part and move to Les Gonies together with my dogs Max and Noa. A place where guests feel welcome, where there is attention for each other and where you can meet. The adults only concept will remain, we'll continue to provide delicious meals for our guests and we'll see what else we can think of to make your vacation unforgettable. Les Gonies also offers young people new opportunities in a wonderful learning environment, and you might even meet them during your vacation.
I'm looking forward to seeing you!
We are Tom en Linda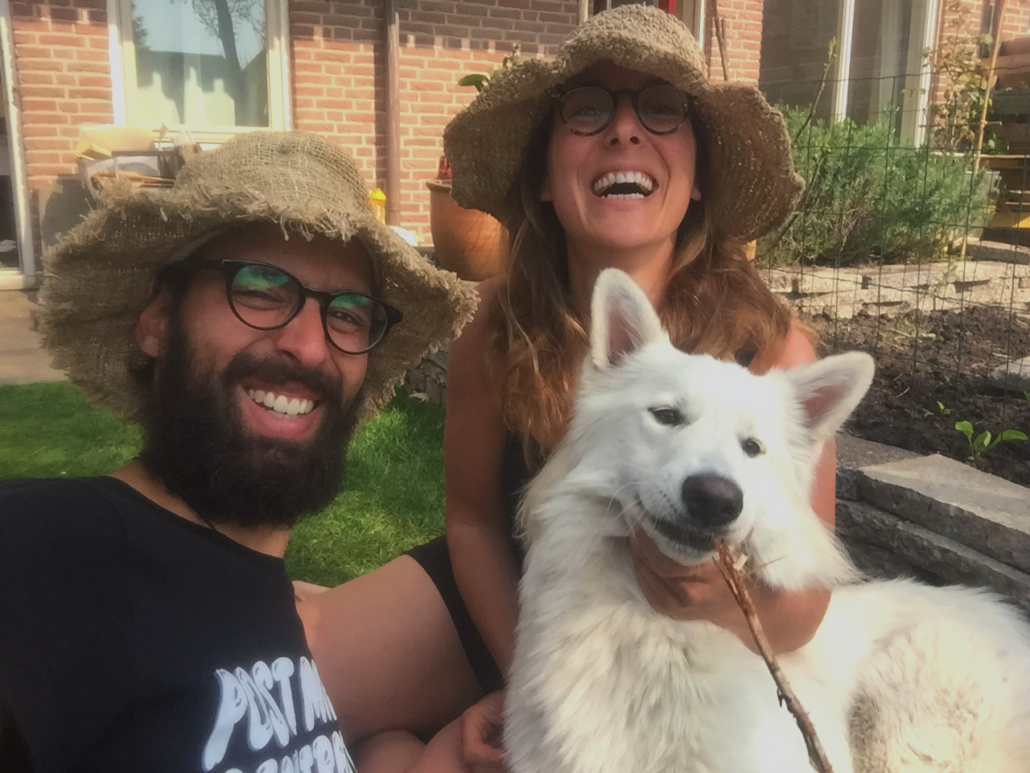 the newly vegetable farmers of Jardin Les Gonies.
From February 2022 we decided to join this great team at beautiful Domaine Les Gonies.
We are going to make it our task to grow beautiful vegetables in a natural and organic way.
In the beginning of 2022 we left the Netherlands to make our long longing dream come true.
Living in the country side, as self sufficient as possible.
Together with our lovely white shepherd Yirga and a lot of courage, we made the step to start our business here in Mauroux, Jardin Les Gonies.
Tom will be graduating as a bio-dynamic farmer after two years of studying at Warmonderhof in Dronten (NL).
Next to his passion for plants and nature he also plays the guitar and has a big love for quality coffee.
Before Tom started as a farmer, he worked as a coffeeroaster/ barista and as a musician.
For Linda, caring for people was her passion and she loved her job as a nurse for many years. But from now on she will be nursing the plants instead, so they can grow into beautiful and tasteful vegetables for everyone to enjoy.
Together with this fantastic team and the many volunteers we will be welcoming, we'll make this piece of paradise a great experience for everybody.
Come and meet us in the garden!